The COVID-19 pandemic has shaped the way we live our lives in many ways, including our shopping habits. Notably, since the onset of the pandemic, there's been an uptick in the number of people choosing to shop more locally, as illustrated below. This, as a natural consequence, has heightened the demand for hyper-local deliveries.
With this surge in mind, if you're running a hyper-local business, what are the considerations you need to take into account when scaling your delivery operations? Your APIs would be a good place to start. More specifically, your Distance Matrix API — arguably one of the most important factors in determining the efficiency of your deliveries.
Plug-and-Play Distance Matrix APIs — The Achilles' Heel of Hyper-Local Delivery
The maps and APIs you use can seriously impact the output of your hyper-local delivery operation. After all, predicting accurate ETAs and executing on-time deliveries have a big part to play in keeping customers satisfied, maximizing operational efficiency and driving profitability.
The Distance Matrix API calculates the distances between a given set of origin and destination points, and then predicts the time taken to travel each route. This then serves as the input on which the routing algorithm runs to figure out the optimal route to be taken with an accurate ETA.
In essence, your routes and ETAs are only as good as the inputs that generated them. Any inaccuracies in your distance matrix calculations have the potential to trigger a ripple effect across the entire customer journey. For instance, a sub-optimal route could lead to an inaccurate ETA, which in turn causes increased waiting time, resulting in dissatisfied customers, escalations and eventually, loss of customer trust and loyalty.

This is why generic plug-and-play Distance Matrix APIs often turn out to be an obstacle rather than an aid. They lack the contextual relevance, flexibility and accuracy a custom Distance Matrix API can offer.
Why You Need a Custom Distance Matrix API
A customized Distance Matrix API can be set up to factor in the intricacies of your specific use case, such as local weather and road conditions, operating restrictions, regulatory requirements, etc. The upsides of this are many, including more accurate and optimized routes, directions and ETAs.
Here are just three examples of customizations that would benefit a hyper-local delivery operation:
Vehicle-specific routing — From e-scooters and motorbikes to cars and trucks, no matter what your fleet is made up of, each vehicle type has its own navigational characteristics. Cars, bikes and trucks access different roads, abide by distinct traffic rules, face separate restrictions and much more.In the pursuit of maximum efficiency and margins, all of these factors must be accounted for. A custom Distance Matrix API can be programmed to do just this for any vehicle type and even mixed fleets.
Time-specific routing — The time of day has a large role to play in traffic patterns. In addition to real-time traffic data, a custom API can process your organization's historical delivery data to make routing decisions driven by time-based patterns, among others.Time-restricted roads are another aspect of time-based routing. Some roads alter their mode of operation depending on the time of day — they may temporarily be blocked or become one-ways or be closed to certain vehicle types and so on. Custom APIs can optimize routes for all of these conditions.
Hyper-local nuances — Hyper-local nuances are crucial to eliminating friction during delivery. There's a lot of data that goes into this, like apartment complex layouts and detailed information on local points of interest for accurate pick-ups/drop-offs and ETAs, live weather conditions, road closures for construction/maintenance/events, and so much more.
The possibilities for customization are endless. Apart from the above mentioned points, custom APIs can include data on practically anything you can think of — speed profiles, driver behavior, cargo types, etc. — to get more finely tuned outputs for enhanced performance, predictability and profitability of your delivery function.
With all these gains to be harnessed, integrating a custom Distance Matrix API into your delivery function sets off the following virtuous sequence of events for your business:
Arrive at Accurate ETAs — As we've already covered, accounting for all the variables that apply to your business and its local nuances helps you achieve optimal routes and accurate ETAs. This, in turn, elevates customer satisfaction and loyalty, eventually propelling other key metrics like order volume, order value, etc.
Tackle operational inefficiencies — With optimal routes and accurate ETAs in place, you'll be able to increase the number of customers serviced per hour while also lowering your operational cost. At the same time, improved delivery times and serviceability drive customer satisfaction, delight and ultimately, loyalty.
Strengthen your unit economics — Now that you have a strong and growing customer base with a high retention rate, and a streamlined, cost- and time-efficient delivery operation, the unit economics of your business will get stronger with time. This sets you up for long-term profitability by increasing your margins on each customer or transaction.
Get Started with NextBillion.ai
With NextBillion.ai, you can build and have full ownership of a bespoke map stack — with a customized Distance Matrix API — that's best suited for your business and its specificities.
Our proprietary AI-powered Distance Matrix API's unique ability to support on-premise deployments lends itself to 2-3X lower latency and 10-20X higher throughput relative to typical cloud deployments. The API's 5000×5000 matrix size is far superior to the standard 25×25 matrix offered in most market solutions, which is critical for scaling operations that involve complex many-to-many delivery scenarios with numerous vehicles and pick-up/drop-off points.
Below is a comparison that illustrates the potential cost savings of using NextBillion.ai's Distance Matrix API as opposed to the Google Distance Matrix API.

As you can see from the above image, scaling your operation increases costs exponentially. With the Google Distance Matrix API, 4x growth comes at a 380% increase in cost; 16x growth corresponds to a 2000% cost increase. In comparison to this, NextBillion.ai's Distance Matrix API is significantly more cost effective, enabling you to scale without worrying about API costs spiraling out of control.
Want to see what NextBillion.ai's custom Distance Matrix API can do for your organization? Reach out to us here or drop us an email at [email protected] and we'll get back to you to address your requirements.
Suggested Reading:
Lower fuel costs
by up to 20%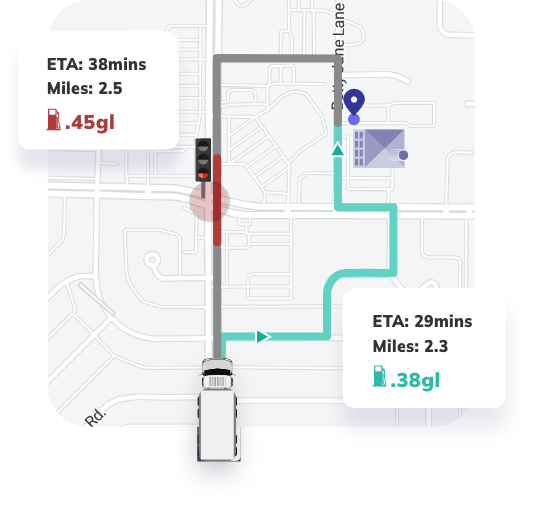 Ready to up your game in scheduling, dispatch, and routing?
Request a Demo