Failed deliveries are one of the biggest and most expensive problems that businesses like shipping, e-commerce, package delivery, last-mile and hyper-local delivery face.
According to Accenture's 'The Sustainable Last Mile' report, nearly 5-10% of all last-mile deliveries fail, and every failed delivery costs about $5 on average. The average cost per failed retail delivery in the US is about $17 and in the UK it is about $14, as per consumer data platform Statista's 2020 survey.
Inaccurate address data is one of the top reasons behind these failed deliveries.
In our Spatial Insider webinar with food delivery giant Swiggy, Pradnya Karbhari, the company's VP Engineering, Location Intelligence, shared that unstructured delivery addresses are a huge challenge for any same-day delivery company.
She asserted that 'navigability through addresses is deterministic' and accurate in geographies that have structured addresses (e.g. Singapore). But in countries where the address structure varies from city to city (e.g. India) and data is incomplete and/or incorrect, achieving delivery accuracy is a lot harder.
An accurate address structure will have details like the country, state, city, town, locality, street number, landmark, building name, block number, postal code, etc. neatly spelled out.
"Getting the right address text, as well as the right address lat-long and then matching the two is a big challenge we have," stated Karbhari.
Address validation powered by fresh map data, along with customizable geocoding APIs is one of the ways map tech teams at companies like Swiggy solve this problem.
In this article, we'll explore the role of address validation in achieving delivery accuracy.
What is address validation?
Forward and reverse geocoding
In simple terms, address validation (or verification) is a process that helps to determine whether or not an address exists. It enables any business that has to transport a person or a package to reach the right location. With this location technology, companies have been able to minimize or eliminate shipping and delivery errors.
The broad-brush approach to data validation was to check the validity of an address against approved databases, such as the USPS Address Database. But before addresses can be verified and matched (geocoded), it has to go through a series of stages — such as (non-exhaustive list) cleansing, supplementation, parsing and standardization.
The address validation process
Unstructured vs. structured addresses
Not every set of address data goes through the same process. This is primarily because the quality of data varies exponentially depending on the source of the data. The end goal here is to match the address text to the geographical coordinates so that companies can offer a seamless and accurate navigation experience to their drivers.
Here's a brief overview of what happens at each stage:
Cleansing – Here any typos or misspellings in the address are fixed.
Supplementation – Here any wrong information is rectified and missing components are added, such as a missing street name or postal code.
Parsing – Here the address is broken down into parts such as city, state and postal code.
Standardization – Here the address is formatted to match the standard address format defined by a specific location's postal department. For example, standardizing Canadian addresses to match their postal service's two-letter abbreviations rule for each state and territory.
Once an address is validated, geographical coordinates are assigned to that address to determine its physical location in the real world. This process is called address matching or geocoding.
Address validation use cases
Address validation and matching
Companies across industries use address validation services to retain customers and save time/money. And they have a very strong reason to do so. Unsatisfactory delivery experience can cause a rapid decline in profits. As a result, address validation is used to solve a host of shipping and delivery problems. We have listed below some of the popular use cases:
Verify addresses to reduce shipping and e-commerce returns – Improve order returns and cancellation rates with address validation and matching. Prevent failed delivery attempts by infusing the correct delivery addresses into your shipping solutions. This applies to fleet operators, last-mile delivery companies or any business that will benefit from postal address verification.
Real-time address verification for instant delivery – Quick commerce businesses like food, grocery and hyper-local courier services have tight delivery timelines. Use this service to validate addresses in real time, get accurate POIs and correct pick-up/drop-off entrances.
Improve service performance of your 3PL business – Third-party logistics (3PL) companies are often roped in to cut down the inherent friction and hassle present in logistics. This makes address validation an important tool for 3PLs to achieve delivery accuracy and reduce the logistics burden of their customers.
Non-shipping use cases – Be it home rental services, financial institutions, background check services or census research, address validation can enable a wide range of non-shipping use cases. It can be used for accurate listings of locations, customer identification or to conduct geospatial analyses.
How can NextBillion.ai's mapping technology help?
NextBillion.ai's Custom Geocoding API
NextBillion.ai's custom Geocoding API and map data management service has enabled many global shipping and delivery companies to improve the cost effectiveness of their routes.
Off-the-shelf geocoding APIs can't be customized to the type of vehicle (bike vs. truck), delivery (apartment complex vs. loading dock) or user (truck driver vs. delivery rider). And more often than not, it is stale map data that is fed into the APIs and reflected on maps, which results in failed deliveries.
Our Geocoding API is designed to handle unstructured delivery addresses with typos, poor structure, incorrect postcodes and other geocoding and search challenges. It can validate addresses in real time and return closely matched addresses.
NextBillion.ai's API can adjust a geocode result and create a custom version of the result to highlight the correct location (for example, delivery entrance for HGVs vs. delivery entrance for food pick-up riders). The modifications made to the search services can be differentiated by adding metadata/tags to the results. An API request can be sent to delete these modified search results if they are no longer needed or valid.
With address parsing, search and autocomplete capabilities on a custom database, the AI-powered API delivers high location accuracy and precision across geographies.
We have also helped enterprises leverage their proprietary location data to generate more accurate geocodes and reflect the locations and routes frequented by their delivery drivers and vehicles.
With NextBillion.ai, companies can clean, build and manage their own custom geocoding databases. Our API also enables them to serve the unique needs of their customers and solve unique business problems at scale in a near-automated way.
If you would like to put an end to failed deliveries due to poor address quality and improve the delivery accuracy of your business, then connect with the NextBillion.ai team today. 
Lower fuel costs
by up to 20%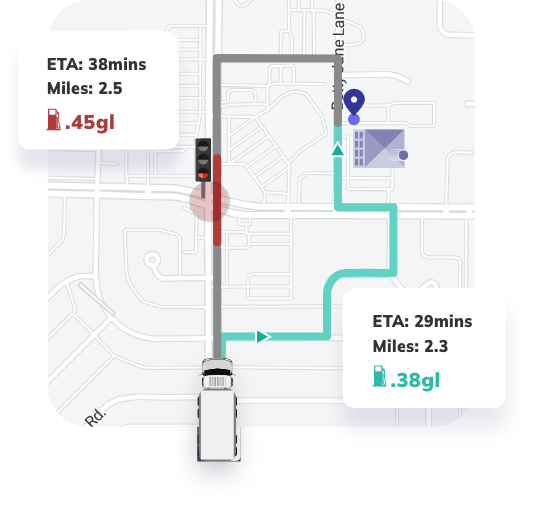 Ready to up your game in scheduling, dispatch, and routing?
Request a Demo