In our Spatial Insider webinar with Uber, we addressed a rising trend amongst top companies operating in industries like ride-sharing, deliveries, transportation and logistics. That is — nearly all of them are investing heavily in custom maps. We asked Naveen Veeravalli, Engineering Leader at Uber his opinion on why these companies are doing it. He rightly pointed out, "The user experience is deeply integrated with maps. So companies want to optimize this experience… Global companies…operating at a massive scale…make a lot of business decisions based on some of the output that mapping provides."
Innovations in technology, access to decentralized data, and the emergence of an autonomous world have ushered in the new era of map self-reliance. In this article, we'll explore what is a custom map stack, the four major reasons why should you invest in it, which companies are building their own stack, and how NextBillion.ai can help.
[You can watch the full webinar with Uber here]
What is a custom map stack?
Before we jump to the reasons, we'll answer a frequently asked question: what is a custom map stack?
Companies that have location or mobility at the core of their business rely on mapping technology to power their operations. Think of industries like retail, fleet management, long-haul trucking and logistics. The need for better maps increased even further in the last two decades with the rise of online retail and, the emergence of mobility and delivery services. Ride-hailing, ecommerce, last-mile services, delivery businesses and on-demand services are a few of the many on this list.
Traditionally, they have been relying on Google Maps or select providers to assemble their map stack. But these solutions are rigid and not business-friendly. Primarily in terms of scale, flexibility, use cases and cost-effectiveness.
Companies have realized that to gain better control over their map needs, they need to shift their focus to either building in-house capabilities or becoming self-reliant with the help of enterprise-grade mapping solutions. As a result, global companies have or are building their custom map stack through acquisition, partnerships, strong budget allocation and team expansion.
Many companies are also following the hybrid approach — to get the best of build and buy —  by partnering with map experts like NextBillion.ai. This approach enables companies to build their custom map stacks with rich data layers tailored to every business' unique needs without incurring the high cost of ownership.
[If you would like to understand why do you need a custom map stack, download our whitepaper that digs deep into the why and how.]
4 reasons why you need to move towards map self-reliance
Here are the top four reasons why businesses have or should ditch the traditional solutions and build their own custom map stack.
1) Cost optimization
This one is a no-brainer.
Google Maps' 1400% price increase in 2018 demonstrated three things:
The uncertainty that monopolistic pricing power brings
Just how expensive maps APIs can be for scaling businesses
The financial impact of being completely dependent on rigid and centralized maps
Building maps is a labor-intensive, time-intensive and expensive undertaking. This is irrespective of whether you build on your own, buy plug-and-play solutions or take the hybrid approach. But the cost-efficiency of a map solution that promotes self-reliance is very high. It is not only more economical in a perspective of pure pricing but also supports scalability, customization and high volume.
Reducing cost while maximizing business value is one of the primary reasons why global enterprises are investing in their own custom map stack and your business should consider it too.
2) Protect proprietary location data 
Taking control of their proprietary data and protecting it is another critical reason that compelled businesses to strengthen in-house map capabilities.
Be it improving ETA predictions' accuracy, optimizing routes, determining the pick-up and drop-off point for a package/person/ride or tracking drivers' route preferences, each of these functions generate valuable location data. By using platforms like Google Maps to perform these functions, companies run the risk of diminishing the value of their intellectual property.
Location-centric enterprises in need of maps must recognize that location information is an asset that should be protected and not shared.
3) Scale of customization
The map stack of a food delivery company will be very different from a trucking company because they face a different set of challenges. For food delivery, computing the accurate routes and ETAs for multiple waypoints is the biggest challenge. And for trucking, it is vehicle routing, scheduling and tracking during long-haul trips.
The map stack for food delivery and ride-hailing might look similar on paper because they both are centered around achieving efficiency across multiple waypoints. But the experience at pick-up and drop-off points differ. The focus area for the former is marking accurate parking and walking directions on the map. For the latter, it is marking the accurate safe spot to stop the car and the right side of the street. Therefore, the mapping solution has to be adjusted for each industry-specific use case and vehicle type.
Traditional customer-centric solutions like Google Maps do not differentiate between these use cases. Since one map doesn't fit all, the same map stack doesn't work for all businesses. The need to serve specific use cases at scale with accuracy can only be met by having the power to choose what goes in your maps.
4) Maintaining data freshness
Maps connect the physical and digital world. And it turns stale the minute you build it because every day new roads get added and streets are closed down. For modern businesses like food delivery or on-demand services, maps need to provide contextual and accurate information around the clock — from counter to couch. Traditional mapping players don't maintain that level of data freshness for all geographies.
Custom solutions leverage innovative AI-powered tools, open data sources and proprietary data to maintain maps at scale. They also enable enterprises to quickly adapt to changes in the road network and real-world without waiting for map providers to make those changes.
Companies investing money and time in building their custom map stack
For the reasons mentioned above, companies across the world have increased their investments in location and geospatial technologies. Right from acquiring  mapping and routing companies to building their own custom map stack from the ground up, we are seeing a lot of movement in this space.
Super app Grab continues to strengthen its large in-house maps team year on year. Co-founder Anthony Tan recently shared in an interview with Nikkei Asia that investing in mapping is their number 1 priority over the next decade.
A substantial portion of the $4.5 billion that Grab raised from the US listing in December 2021 will be used to accelerate that. Tan said the focus will be on the creation of detailed digital maps of Grab's operating areas, which also include pick-up points for its ride-hailing services. In late 2019, Grab had also purchased the technology underlying Telenav's OpenTerra platform to leverage its geo-mapping capabilities.
Another tech start-up that's building its in-house team is freshly-funded ride-hailing enterprise Bolt. Chinese mobility company ​​Meituan started working its map service in 2018 to support its self-driving deliveries, food delivery, ride-hailing and shared bikes operations.
Lyft maintains the freshness and high quality of its maps — especially road attributes — via OpenStreetMap. On the other hand, autonomous driving company Waymo — which has built its own mapping and routing platform — is training its self-driving system and fleet by manually mapping densely populated areas and collecting data.
Retail giant Amazon officially launched Amazon Location Service in June 2021. This service allows retailers to add location functionality and build maps directly into applications.
In October 2021, ride-hailing app Ola announced on its blog that they have acquired the geospatial-tech platform GeoSpoc. It will help them to convert satellite imagery into real-time maps as well as 3D, high-definition (HD) and vector maps.
Other notable acquisitions of 2021 include:
GoPuff, the US-based on-demand delivery service acquired fleet management platform rideOS for $115 million
Digital workflow firm ServiceNow acquired indoor mapping disruptor Mapwize
How NextBillion.ai can help companies build their own custom map stack
Industry disruptors like Gojek, Neuron, Freight Tiger, Bolt and iApotheca Healthcare opted for the hybrid path. They are building their custom map stack with NextBillion.ai. Our mapping platform offers better pricing, control, customizability and scalability compared to other industry players.
Through our AI-powered APIs, map data management service and inventive tools, we have improved the unit economics of many last-mile delivery, logistics, transport, delivery, automotive and ride-hailing companies.
For this UAE-based AI company, we not only built country-scale maps in just 3 months but also helped them to reduce map building costs by 70%. A micro-mobility company was able to achieve government regulatory compliance for its e-scooter operations in Australia via our custom APIs, map layers and data.
NextBillion.ai also enabled a top food delivery company to achieve 40% cost savings and gain complete control over their mapping stack. Another insightful customer story that we'd like to share is this logistics tech company that improved its ETA accuracy by close to 40%!
Reach out to us now, if maps are at the center of your business and you'd like to learn more about how our map data + AI platform can help you build your custom map stack.
Lower fuel costs
by up to 20%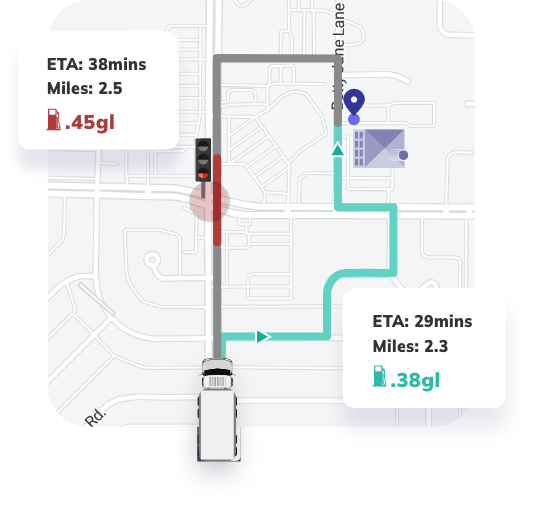 Ready to up your game in scheduling, dispatch, and routing?
Request a Demo